$

20.00
ZED - Desperation Blues Deluxe RARE TEST PRESS and Bonus 10" TEST PRESS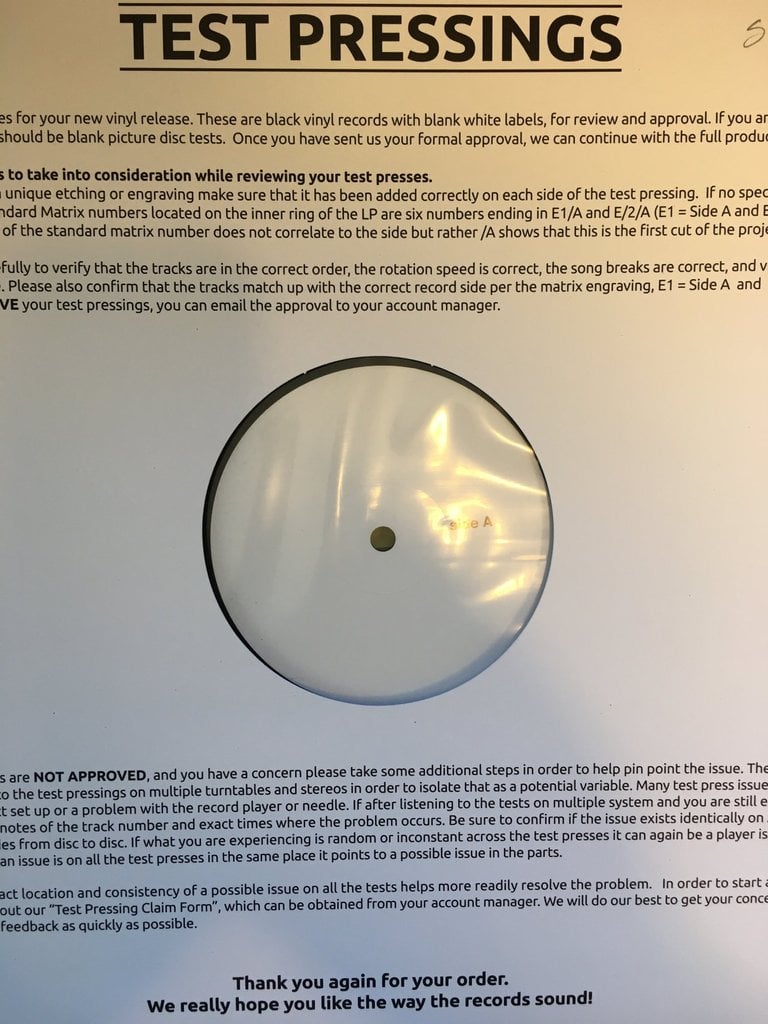 Finally, the official reissue of the long out of print, critically-hailed sophomore album by heavy rockers, ZED. This is the album that launched the band, pressed on high quality black vinyl. And as a SPECIAL BONUS, we've added a 10" vinyl record with 5 songs off the bands self-produced debut album, The Invitation! This is the first time these songs will ever appear on vinyl, and each song still features in the ZED live show.
Limited Edition only with the bonus 10" so hurry!
ZED makes rock the way it should be made. Loud guitars, a shot of whiskey and a middle finger. Taking it cues from the greats like Zeppelin, Sabbath and AC/DC, but combining them with their contemporary musical influences such as Clutch, Rage Against the Machine and Queens of the Stone Age, creating a mixture that is new, yet familiar.
"There are times when you need to strip away the blastbeats, the growling, the hyperbolic horror movie cover art, the hyper-aggressive posturing and just rock. Plain and simple rock. . . So, when ZED came to the blood-soaked and grime-filled Scrum room of the Deciblog and presented new album, Desperation Blues, we all nodded in approval. ZED blends the classic rock you've heard a zillion times on any "Z" rock radio station with the punch of, say, Clutch, the angularity of Rage Against the Machine, the hey-it's-cool-man vibe of Queens of the Stone Age. Classic-Contemporary hard rock from the Left Coast, which for a Monday morning is exactly what most of us need to get the day going." -- Decibel Magazine
"Big riffs are definitely back in fashion, so three years on from their The Invitation album Zed are back with a dose of Desperation Blues . Stating Queens Of The Stone Age, AC/DC, Sabbath and Zeppelin as influences Zed stay true to their word by hammering out groove laden bristling riffs, backed by howling, gravely vocals and ground shaking beats. "Skin And Bone", or "Desperation Blues" there's no doubting that the rolling beat and bouncing bass of the former and the Slash like spiraling guitars of the latter, kick up a pretty convincing and sweaty storm." -- Sea of Tranquility
**Even though these records are pristine. please be aware we DO NOT issue refunds or replacements for minor cosmetic damage, such as corner dings, bends, split inserts, split covers, and so on. We pack our vinyl very securely and carefully but in some cases this type of wear is simply unavoidable in shipping. We can not be held accountable for how the Post Office handles your items. Please allow 10-14 days (usually) for order processing and shipping**
***GDPR NOTICE - BY PLACING AN ORDER IN THE RIPPLE MUSIC BIGCARTEL STORE, YOU AUTOMATICALLY ACCEPT BEING ADDED TO OUR NEWSLETTER MAILING LIST, WHERE WE REGULARLY WILL SEND OUT EMAILS DIRECTLY RELATED TO THE LABEL'S ACTIVITIES SUCH AS INFO ON PRE-ORDERS AND UPCOMING RELEASES. YOUR EMAIL ADDRESS IS STORED SECURELY BY US AND IS NOT EVER SHARED, SOLD, OR DISTRIBUTED TO THIRD PARTIES, NEITHER WILL IT BE USED FOR OTHER COMMERCIAL USE OR UNRELATED ADVERTISING. WITH EACH NEWSLETTER THERE IS AN OPT-OUT UNSUBSCRIBE OPTION THAT CAN BE USED AT ANY TIME.**