$

7.00
USPS Specials - Cosmetically Damaged LPs and CDs (great for listening!)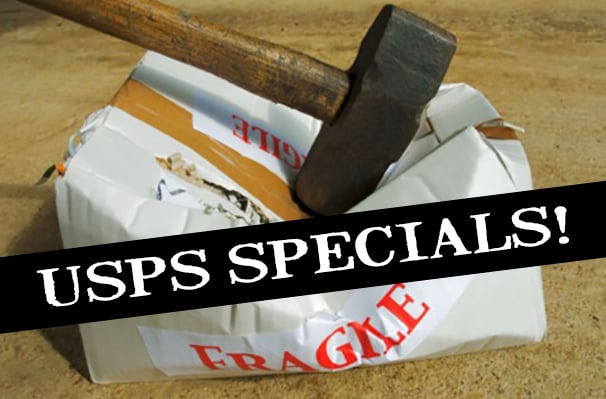 As much as we wish we could reliably trust the US postal system all the time, sometimes they take out their worst moods on whatever happens to be nearby.
The result is that every once in a while, we get a batch of records or CDs with cosmetic damage... sometimes these are little dings and creases, and sometimes it looks like a tornado hit the post office with our inventory inside.
The good news is, the music itself is still playable, and for those who want to take a chance on a band or record without having to pay full price, this is the perfect way in the door.
Check out these limited quantities of heavy-as-hell vinyl and CDs priced to move for your rockin' enjoyment!
**These discount records and CDs are sold as-is, and we DO NOT issue refunds or replacements. Please allow 10-14 days (usually) for order processing and shipping**
***GDPR NOTICE - BY PLACING AN ORDER IN THE RIPPLE MUSIC BIGCARTEL STORE, YOU AUTOMATICALLY ACCEPT BEING ADDED TO OUR NEWSLETTER MAILING LIST, WHERE WE REGULARLY WILL SEND OUT EMAILS DIRECTLY RELATED TO THE LABEL'S ACTIVITIES SUCH AS INFO ON PRE-ORDERS AND UPCOMING RELEASES. YOUR EMAIL ADDRESS IS STORED SECURELY BY US AND IS NOT EVER SHARED, SOLD, OR DISTRIBUTED TO THIRD PARTIES, NEITHER WILL IT BE USED FOR OTHER COMMERCIAL USE OR UNRELATED ADVERTISING. WITH EACH NEWSLETTER THERE IS AN OPT-OUT UNSUBSCRIBE OPTION THAT CAN BE USED AT ANY TIME.**