$

20.00
Turned to Stone Ch 2: Howling Giant & Sergeant Thunderhoof: Masamune & Muramasa Vinyl Editions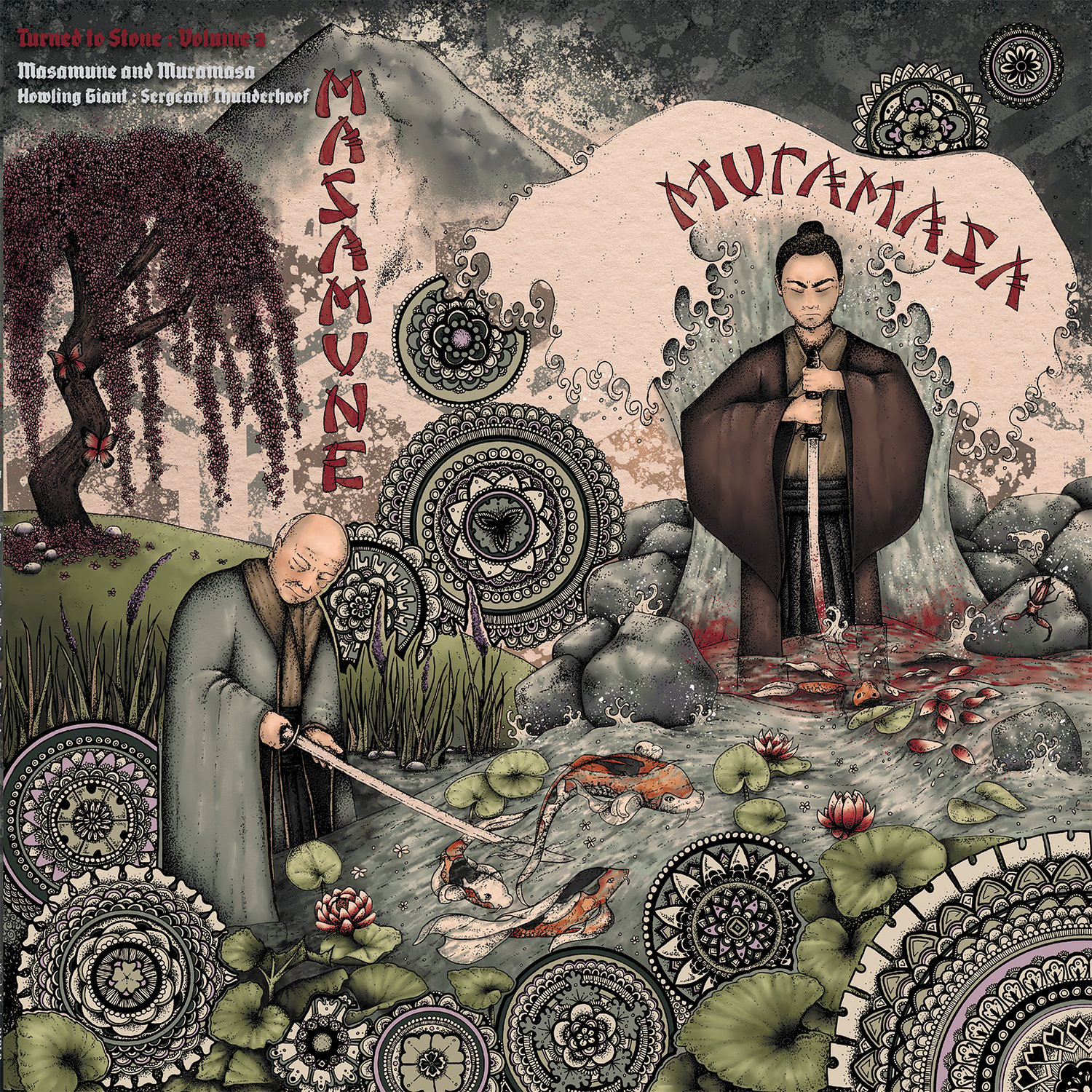 Release Date: August 7, 2020
- Rare Test Pressing LP
- MAGMA Edition Galaxy Vinyl LP
- BEDROCK Edition Splatter Vinyl LP
- LANDSLIDE Edition Classic Black Vinyl LP
BEDROCK edition is 150 copies pressed on sleek green vinyl with heavy black splatter!
MAGMA edition is 150 copies pressed with a black and pink cosmic marbling effect! (MAGMA edition only available directly from the label's official US shops.)
Chapter two of Ripple's new Turned to Stone series presents the story of two legendary Japanese sword smiths, Muramasa and Masamune, as told in interconnected musical movements by spacefaring psych-metal warriors Howling Giant and their equally cosmic riff-wielding British contemporaries Sergeant Thunderhoof.
In the two pieces, Muramasa and Masamune have a contest to determine whose sword smithery is superior, each crafting a blade of masterful quality and facing off by the edge of the river.
Instead of the typical approach with two bands contributing stand-alone sides of a record, Howling Giant and Sergeant Thunderhoof wanted to write an album that was thematically cohesive. Each side features a 20-minute song assembled via sharing of melodic ideas between the two bands during the writing process, and telling the story from the perspective of one of the sword smiths.
The result is a single piece of ambitious songcraft created by two riff-prog legends leaving another impressive mark on the heavy rock landscape.
**Even though these records are pristine. please be aware we DO NOT issue refunds or replacements for minor cosmetic damage, such as corner dings, bends, split inserts, split covers, and so on. We pack our vinyl very securely and carefully, but in some cases this type of wear is simply unavoidable in shipping. We can not be held accountable for how the Post Office handles your items. Please allow 10-14 days (usually) for order processing and shipping**
***GDPR NOTICE - BY PLACING AN ORDER IN THE RIPPLE MUSIC BIGCARTEL STORE, YOU AUTOMATICALLY ACCEPT BEING ADDED TO OUR NEWSLETTER MAILING LIST, WHERE WE REGULARLY WILL SEND OUT EMAILS DIRECTLY RELATED TO THE LABEL'S ACTIVITIES SUCH AS INFO ON PRE-ORDERS AND UPCOMING RELEASES. YOUR EMAIL ADDRESS IS STORED SECURELY BY US AND IS NOT EVER SHARED, SOLD, OR DISTRIBUTED TO THIRD PARTIES, NEITHER WILL IT BE USED FOR OTHER COMMERCIAL USE OR UNRELATED ADVERTISING. WITH EACH NEWSLETTER THERE IS AN OPT-OUT UNSUBSCRIBE OPTION THAT CAN BE USED AT ANY TIME.**