$

15.00
The Necromancers - Of Blood and Wine Deluxe Vinyl Editions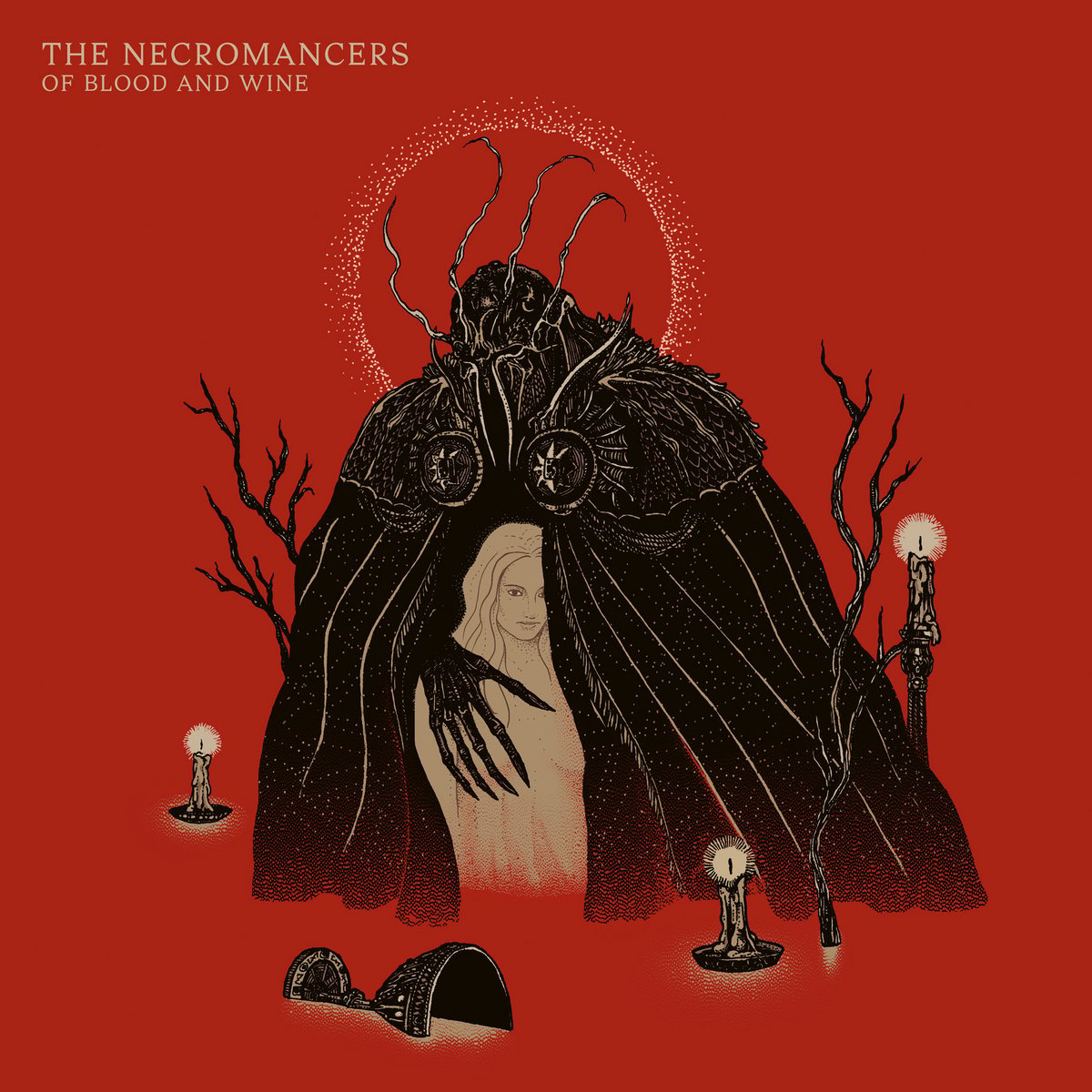 New pressing on blood red vinyl limited to 300 copies!
"High-octane tritone-centric heaviness and atmospheric incantations, creating a sound as wealthy and tasteful as Old nick himself."
CLASSIC ROCK

"[Their] debut so reverentially evokes the doomy space rock paranoia of Sabbath."
METAL HAMMER

"The most fun you could have at an occult sacrifice ceremony whilst keeping your clothes on."
POWERPLAY MAGAZINE

"They have the mettle necessary to plant black flags on their red, white and blue home."
NEW NOISE MAGAZINE
Their debut album was the surprise occult doom release of the year last year, now The Necromancers come roaring back with their follow up release Of Blood and Wine. Present are all the same intense moods and themes, with even better songwriting and heavier riffs!

Drawing on antiquated inspirations in mythology, religion, fantastical tales from European literature and an obsession for classic horror cinema, The Necromancers are a curious alliance of musicians, and together are a strange beast to behold.

Following on from the release of their debut album last year on Ripple Music, the French quartet return with the first taste of their eagerly awaited follow up, Of Blood and Wine, with 'Secular Lord'; a song about which explores the legend of Vlad 'The Empalor' Tepes. Experimenting with progressive rock, heavy psych and the 70s pagan/proto-metal of bands like Black Sabbath and Coven, they take these influences, throw in the urgency of NWOBHM and douse the entire lot in lysergic illusions. All with a mind to create an album a sound for ages.
After a very successful tour last winter with Swiss psych rock legends Monkey 3, The Necromancers take to the road for a European tour with Belzebong, kicking off with an album release show at Le Cluricaume in their hometown of Poitiers.
**Even though these records are pristine. please be aware we DO NOT issue refunds or replacements for minor cosmetic damage, such as corner dings, bends, split inserts, split covers, and so on. We pack our vinyl very securely and carefully but in some cases this type of wear is simply unavoidable in shipping. We can not be held accountable for how the Post Office handles your items. Please allow 10-14 days (usually) for order processing and shipping**
***GDPR NOTICE - BY PLACING AN ORDER IN THE RIPPLE MUSIC BIGCARTEL STORE, YOU AUTOMATICALLY ACCEPT BEING ADDED TO OUR NEWSLETTER MAILING LIST, WHERE WE REGULARLY WILL SEND OUT EMAILS DIRECTLY RELATED TO THE LABEL'S ACTIVITIES SUCH AS INFO ON PRE-ORDERS AND UPCOMING RELEASES. YOUR EMAIL ADDRESS IS STORED SECURELY BY US AND IS NOT EVER SHARED, SOLD, OR DISTRIBUTED TO THIRD PARTIES, NEITHER WILL IT BE USED FOR OTHER COMMERCIAL USE OR UNRELATED ADVERTISING. WITH EACH NEWSLETTER THERE IS AN OPT-OUT UNSUBSCRIBE OPTION THAT CAN BE USED AT ANY TIME.**