$

3.00
Thadeus Gonzalez - Opposite Faces Limited Edition Digipak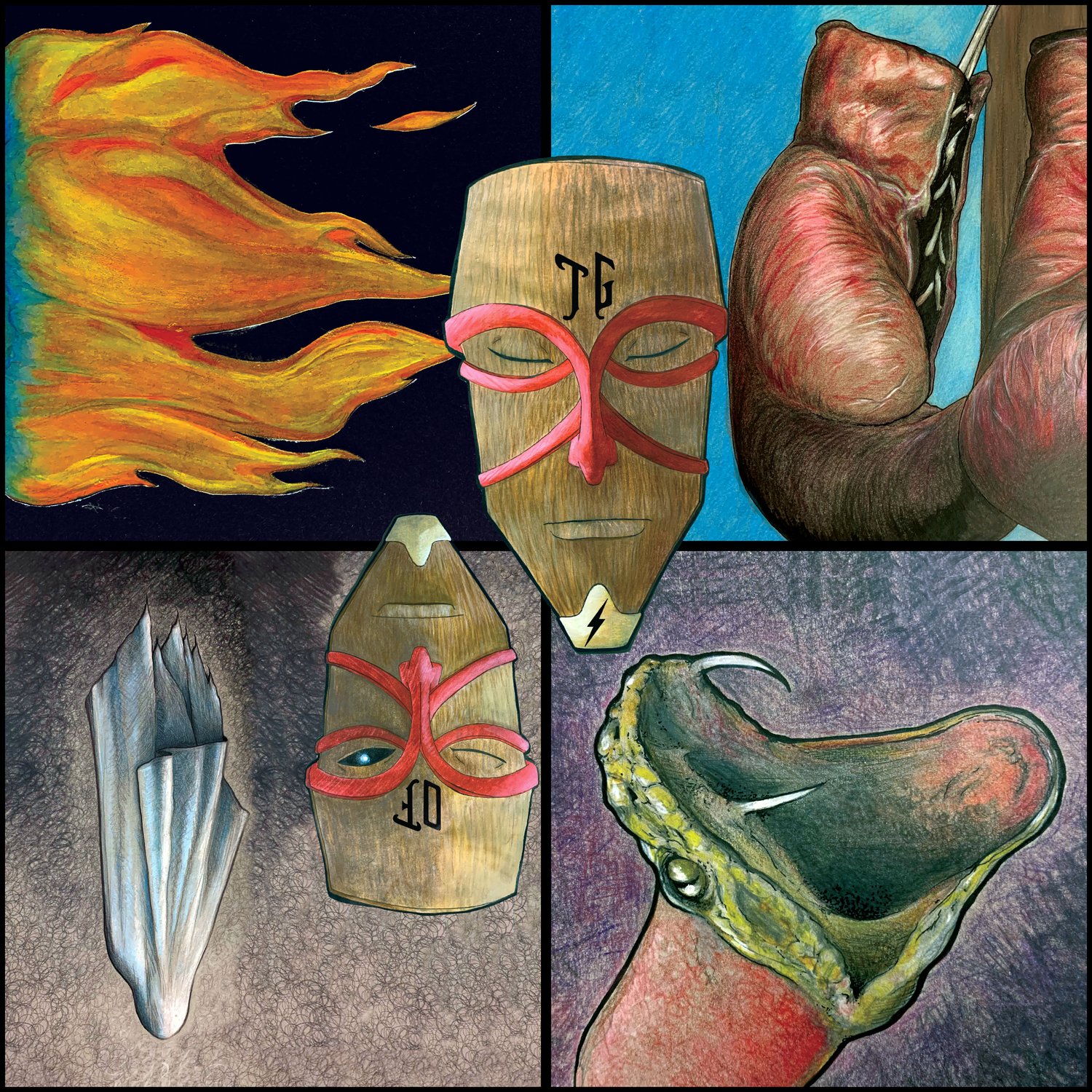 A Rebel Waves Records release -- the garage/psych/indy rock imprint of Ripple Music.
Release Date: July 16, 2021
Limited edition is 150 units pressed on electric blue and oxblood color-in-color vinyl with yellow splatter!
THADEUS GONZALEZ is a singer, songwriter, and musician from Oakland, California. While fronting local rock band Electric Sister nearly ten years ago, he caught international critical attention and was called "a frontman to watch with an arena-looking and sounding attitude". After launching a solo career in 2014, his reputation for genre blending was solidified. With two full-lengths under his belt, Thadeus kicked off nearly two years of coast-to-coast and international touring, opening for KISS, Motley Crue, Slash, as well as Bon Jovi at the SAP Center in San Jose, CA. THADEUS GONZALEZ's third album 'Opposite Faces' weaves together loud and razor-edged riffing, a straightforward attitude, alongside an alt-punk flare and a gift for singalong-ready hooks. The pervading tension and the man's emotional commitment and inner fire never let go of the listener all throughout the ten tracks, offering a refreshing take on modern hard rock and a compelling journey into the world of one of the US' most inspiring rockers.
**Even though these records are pristine. please be aware we DO NOT issue refunds or replacements for minor cosmetic damage, such as corner dings, bends, split inserts, split covers, and so on. We pack our vinyl very securely and carefully but in some cases this type of wear is simply unavoidable in shipping. We can not be held accountable for how the Post Office handles your items. Please allow 10-14 days (usually) for order processing and shipping**
***GDPR NOTICE - BY PLACING AN ORDER IN THE RIPPLE MUSIC BIGCARTEL STORE, YOU AUTOMATICALLY ACCEPT BEING ADDED TO OUR NEWSLETTER MAILING LIST, WHERE WE REGULARLY WILL SEND OUT EMAILS DIRECTLY RELATED TO THE LABEL'S ACTIVITIES SUCH AS INFO ON PRE-ORDERS AND UPCOMING RELEASES. YOUR EMAIL ADDRESS IS STORED SECURELY BY US AND IS NOT EVER SHARED, SOLD, OR DISTRIBUTED TO THIRD PARTIES, NEITHER WILL IT BE USED FOR OTHER COMMERCIAL USE OR UNRELATED ADVERTISING. WITH EACH NEWSLETTER THERE IS AN OPT-OUT UNSUBSCRIBE OPTION THAT CAN BE USED AT ANY TIME.**