$

10.00
Shotgun Sawyer - Bury the Hatchet "Midnight Black" Vinyl Edition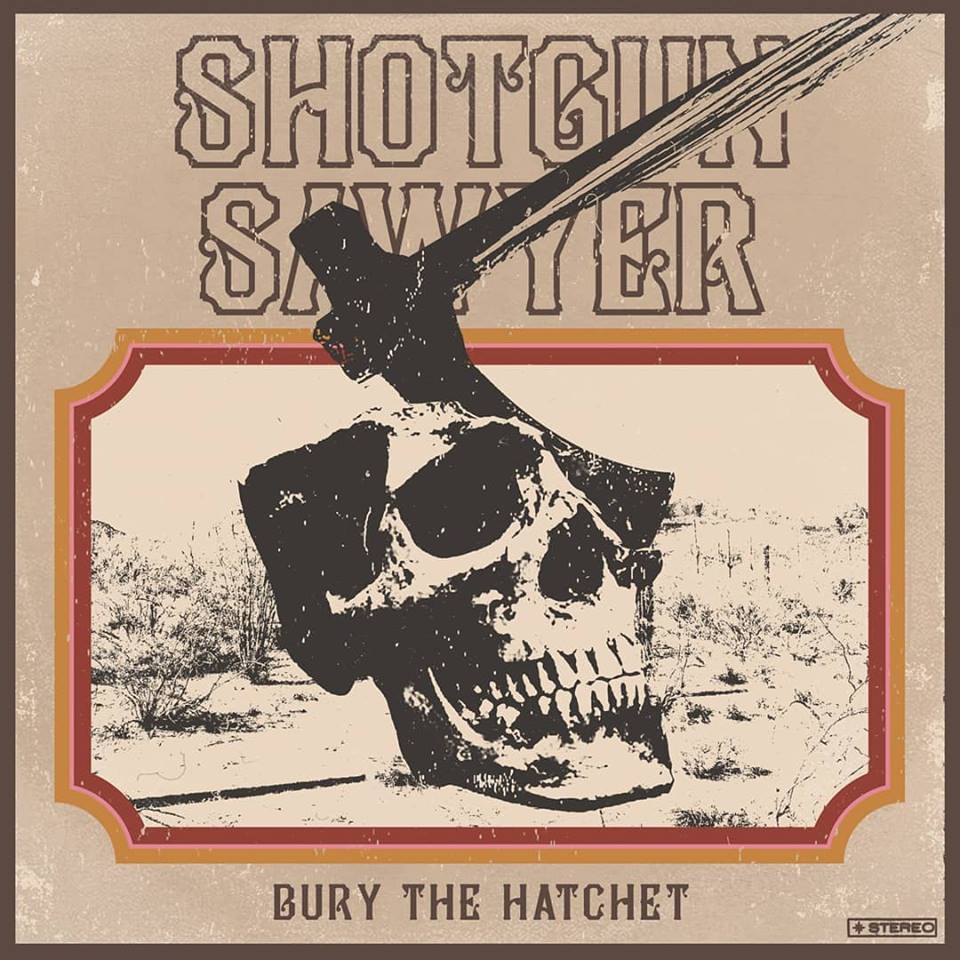 Intent on reviving and re-imagining the musical spirit of Muddy Waters and Howlin' Wolf while treading trails blazed by Zeppelin, ZZ Top, and Sabbath, bassist Brett "The Butcher" Sanders, guitarist/vocalist Dylan Jarman and drummer David Lee banded together in January of 2015. The result was a thundering and authentic blend of tasty grooves, crunchy riffs, searing solos and powerful vocals, all underpinned by virtuosic drumming.
After self-releasing impressive debut Thunderchief in 2016 and touring Europe earlier this year, Shotgun Sawyer is preparing for the release of sophomore record Bury the Hatchet via Ripple Music in early 2019, along with a Western US tour in the Spring.
For Bury the Hatchet, the band teamed up with Cody Tarbell (of Slow Season) at his Double Wide Studios to create an utterly raw, unfiltered record. The album was recorded live to tape with no instrumental dubs, and assembled with nothing but analog technologies and techniques to ensure the most honest presentation of the band possible.
**Even though these records are pristine. please be aware we DO NOT issue refunds or replacements for minor cosmetic damage, such as corner dings, bends, split inserts, split covers, and so on. We pack our vinyl very securely and carefully but in some cases this type of wear is simply unavoidable in shipping. We can not be held accountable for how the Post Office handles your items. Please allow 10-14 days (usually) for order processing and shipping**
***GDPR NOTICE - BY PLACING AN ORDER IN THE RIPPLE MUSIC BIGCARTEL STORE, YOU AUTOMATICALLY ACCEPT BEING ADDED TO OUR NEWSLETTER MAILING LIST, WHERE WE REGULARLY WILL SEND OUT EMAILS DIRECTLY RELATED TO THE LABEL'S ACTIVITIES SUCH AS INFO ON PRE-ORDERS AND UPCOMING RELEASES. YOUR EMAIL ADDRESS IS STORED SECURELY BY US AND IS NOT EVER SHARED, SOLD, OR DISTRIBUTED TO THIRD PARTIES, NEITHER WILL IT BE USED FOR OTHER COMMERCIAL USE OR UNRELATED ADVERTISING. WITH EACH NEWSLETTER THERE IS AN OPT-OUT UNSUBSCRIBE OPTION THAT CAN BE USED AT ANY TIME.**