$

2.00
Mr Plow - Maintain Radio Silence CD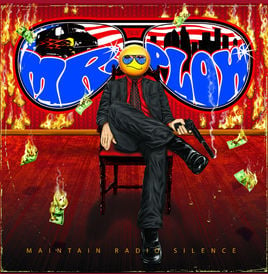 Mr. Plow has returned after a 12 year hiatus. They make their triumphant return with Maintain Radio Silence, a hard driving, and tone soaked expedition certain to thrill anyone who listens to stoner rock!
"Listen to Mr. Plow, that's their name! That name again is Mr. Plow! Ok, so I have been meaning to write this review for at least a week. I have listened to Maintain Radio Silence about 8 times before writing this review. Why, you might ask? Because I was desperately trying to find something wrong with it. And there isn't much. I had never heard of Mr. Plow before this album came across my lap. According to their Facebook page, this is the first album since 2006's Asteroid 25399. They're definitely a strong band with great tone, heavy riffs and a driving sound that any fan of the stoner rock sub-genre should add to their library." -- Metal Nation.com
Mr. Plow formed in 1997 when Kyuss and Fu Manchu were blowing out speakers in car systems across the land. When the term "stonerrock" was joining the lexicon for music writers who needed a category for riff-based rock that was tuned down and turned up. The band were influenced heavily by the times, but sought a different direction lyrically–instead of dark and evil, they went for pop-culture references and hooky riffs. Mr. Plow was way less about skulls and satanic imagery, and way more about good times that would be the soundtrack for summer trips to the beach or skatepark.
Mr. Plow is:
Justin Waggoner: guitar/vocals
Jeremy Stone: guitar/vocals
Greg Green: bass
Cory Cousins: drums
**Even though these records are pristine. please be aware we DO NOT issue refunds or replacements for minor cosmetic damage, such as corner dings, bends, split inserts, split covers, and so on. We pack our vinyl very securely and carefully but in some cases this type of wear is simply unavoidable in shipping. We can not be held accountable for how the Post Office handles your items. Please allow 10-14 days (usually) for order processing and shipping****
****GDPR NOTICE - BY PLACING AN ORDER IN THE RIPPLE MUSIC BIGCARTEL STORE, YOU AUTOMATICALLY ACCEPT BEING ADDED TO OUR NEWSLETTER MAILING LIST, WHERE WE REGULARLY WILL SEND OUT EMAILS DIRECTLY RELATED TO THE LABEL'S ACTIVITIES SUCH AS INFO ON PRE-ORDERS AND UPCOMING RELEASES. YOUR EMAIL ADDRESS IS STORED SECURELY BY US AND IS NOT EVER SHARED, SOLD, OR DISTRIBUTED TO THIRD PARTIES, NEITHER WILL IT BE USED FOR OTHER COMMERCIAL USE OR UNRELATED ADVERTISING. WITH EACH NEWSLETTER THERE IS AN OPT-OUT UNSUBSCRIBE OPTION THAT CAN BE USED AT ANY TIME.**