$

23.00
Freedom Hawk - S/T world wide Black vinyl LP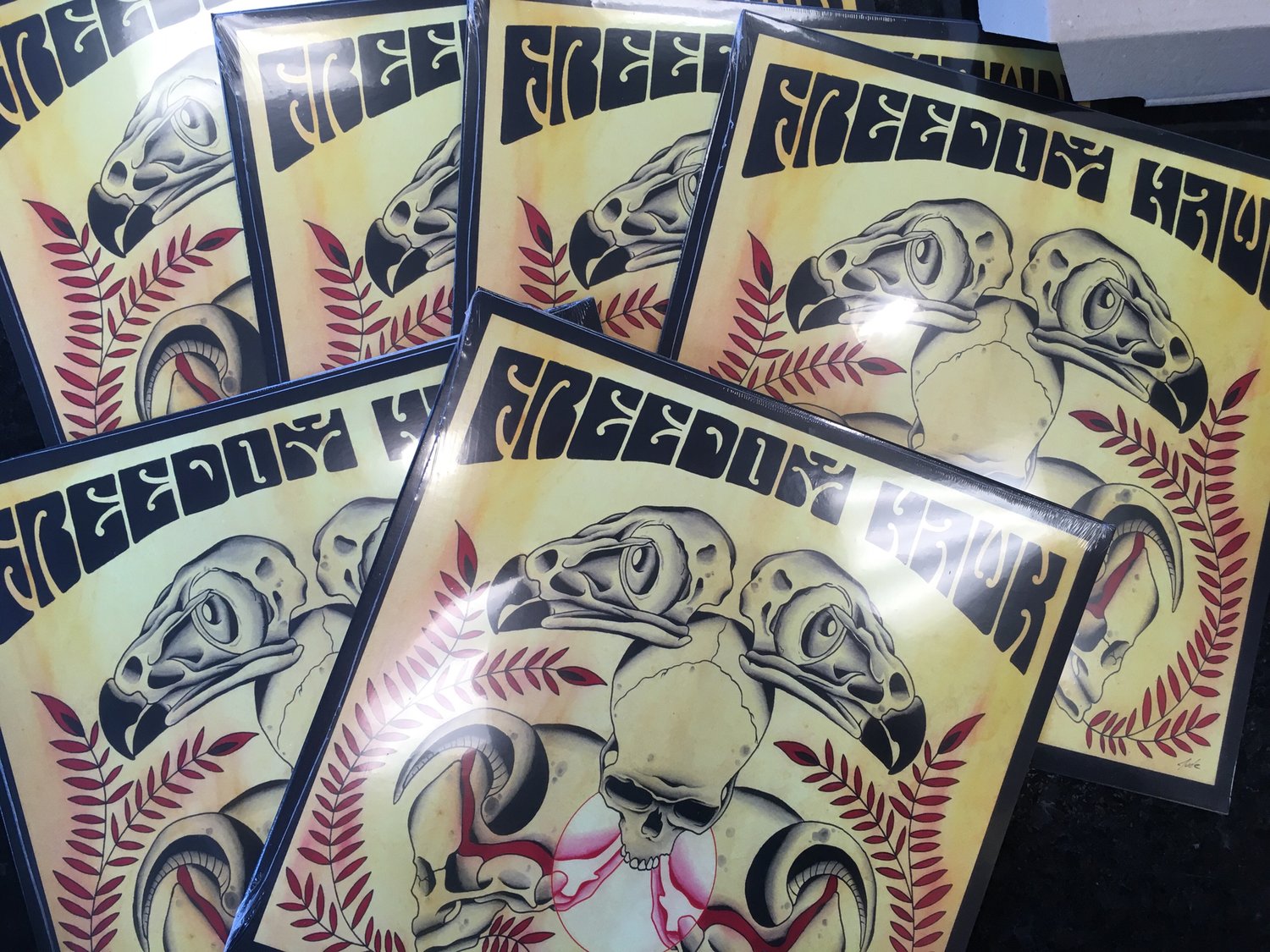 *** Note: Scratch 'n Dent Copies have minor seam splits on the jackets, vinyl is still pristine and perfect! ***
Ripple Music is thrilled to announce the re-release of the self-titled 2009 album from vintage rock pioneers Freedom Hawk.
Hailing from the barrier dunes of Virginia, the quartet blend heavy riffs into rolling grooves and soulful guitar melodies to showcase their sound. Widely recognized as one of the leading forces in the retro-rock movement, their exceptional brand of heavy and high energy live shows leaves many questioning whether they've stepped through a time warp directly out of the '70s hard rock heyday.
Wrapped in core metal tones with slight psychedelic edges Freedom Hawk's driving beat and heavy guitars offer the kind of timeless vocals that gave light to the dawn of the new and heavy revival.
"Freedom Hawk, for instance, is the soundtrack to cold kegs, warm weather, and backyard barbecue. Jams like "On the Other Side" and "My Road" were made for: worshipping at the Super Fuzz altar. James Gang riffs groove it up behind singer T.R. Morton's excellent Ozzy/Pepper Keenan impression throughout seven songs of bong-loaded bliss." - Invisible Oranges
**Even though these records are pristine. please be aware we DO NOT issue refunds or replacements for minor cosmetic damage, such as corner dings, bends, split inserts, split covers, and so on. We pack our vinyl very securely and carefully but in some cases this type of wear is simply unavoidable in shipping. We can not be held accountable for how the Post Office handles your items. Please allow 10-14 days (usually) for order processing and shipping**
***GDPR NOTICE - BY PLACING AN ORDER IN THE RIPPLE MUSIC BIGCARTEL STORE, YOU AUTOMATICALLY ACCEPT BEING ADDED TO OUR NEWSLETTER MAILING LIST, WHERE WE REGULARLY WILL SEND OUT EMAILS DIRECTLY RELATED TO THE LABEL'S ACTIVITIES SUCH AS INFO ON PRE-ORDERS AND UPCOMING RELEASES. YOUR EMAIL ADDRESS IS STORED SECURELY BY US AND IS NOT EVER SHARED, SOLD, OR DISTRIBUTED TO THIRD PARTIES, NEITHER WILL IT BE USED FOR OTHER COMMERCIAL USE OR UNRELATED ADVERTISING. WITH EACH NEWSLETTER THERE IS AN OPT-OUT UNSUBSCRIBE OPTION THAT CAN BE USED AT ANY TIME.**