$

17.00
Crystal Spiders - Morieris Deluxe Vinyl Editions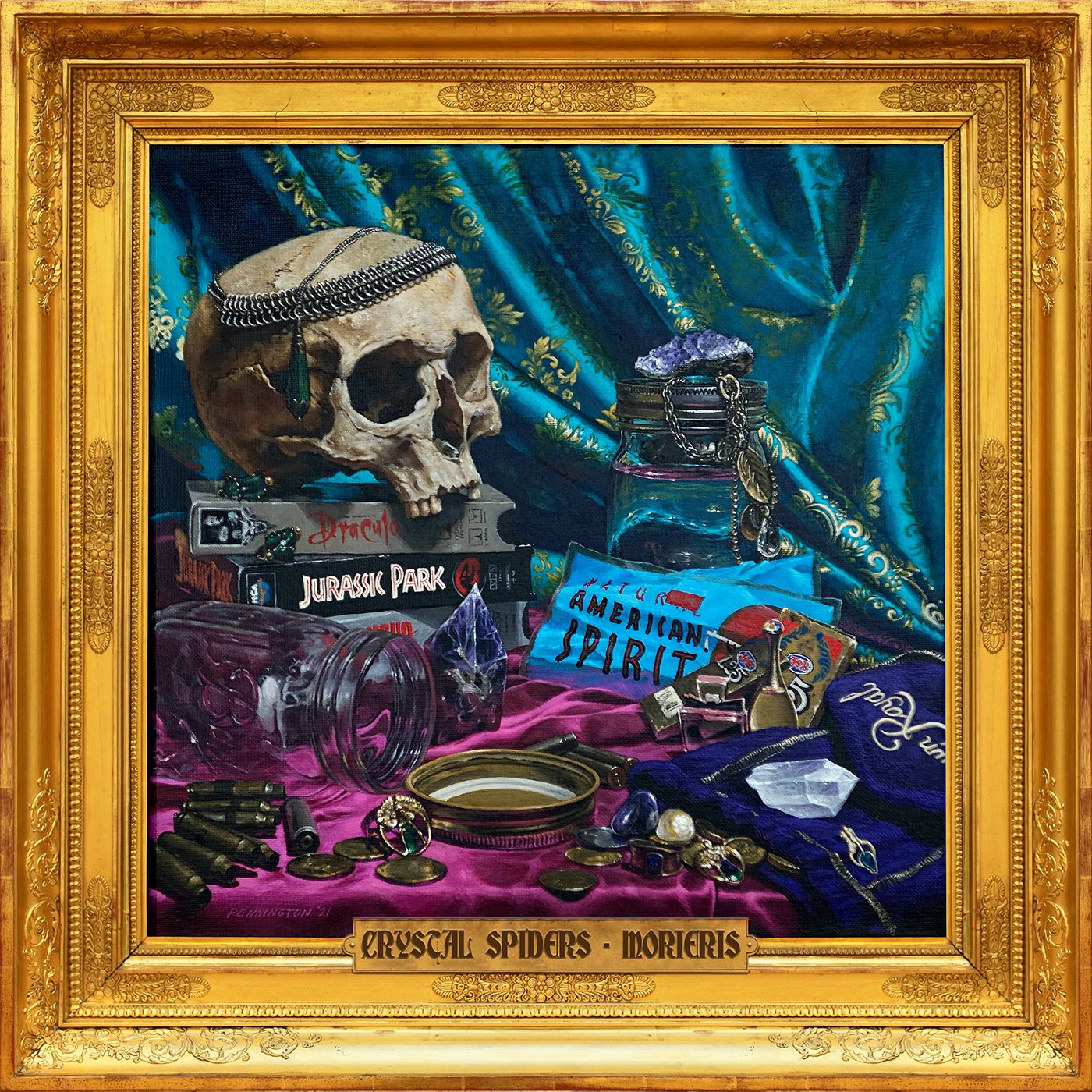 Release Date: October 1, 2021
Limited edition is 250 copies on pink and purple color merge with white, blue and gold splatter.
For their eagerly anticipated follow up, Morieris, North Carolina duo Crystal Spiders bassist Brenna Leath (Lightning Born, The Hell No) and drummer Tradd Yancey (Doomsday Profit) take a lead guitar assist from Mike Dean (Corrosion of Conformity bassist and Leath's bandmate in Ripple labelmates Lightning Born) for a rollercoaster ride of doomy atmospherics, razor sharp riffs, and infectious rhythms.
With their second offering, the band builds upon and refines the whiplash intensity of Molt to experiment with intricate harmonies, thundering breakdowns, and orchestral instrumentals (including guest cello from High Priestess Nighthawk of Heavy Temple). 2020 saw Crystal Spiders' debut seated on many Album of the Year charts, and with Morieris, there's no doubt that heavy music lovers will be saving a spot for them at the end of 2021 as well.
**Even though these records are pristine. please be aware we DO NOT issue refunds or replacements for minor cosmetic damage, such as corner dings, bends, split inserts, split covers, and so on. We pack our vinyl very securely and carefully but in some cases this type of wear is simply unavoidable in shipping. We can not be held accountable for how the Post Office handles your items. Please allow 10-14 days (usually) for order processing and shipping**
***GDPR NOTICE - BY PLACING AN ORDER IN THE RIPPLE MUSIC BIGCARTEL STORE, YOU AUTOMATICALLY ACCEPT BEING ADDED TO OUR NEWSLETTER MAILING LIST, WHERE WE REGULARLY WILL SEND OUT EMAILS DIRECTLY RELATED TO THE LABEL'S ACTIVITIES SUCH AS INFO ON PRE-ORDERS AND UPCOMING RELEASES. YOUR EMAIL ADDRESS IS STORED SECURELY BY US AND IS NOT EVER SHARED, SOLD, OR DISTRIBUTED TO THIRD PARTIES, NEITHER WILL IT BE USED FOR OTHER COMMERCIAL USE OR UNRELATED ADVERTISING. WITH EACH NEWSLETTER THERE IS AN OPT-OUT UNSUBSCRIBE OPTION THAT CAN BE USED AT ANY TIME.**