$

5.00
Cities of Mars - The Horologist CD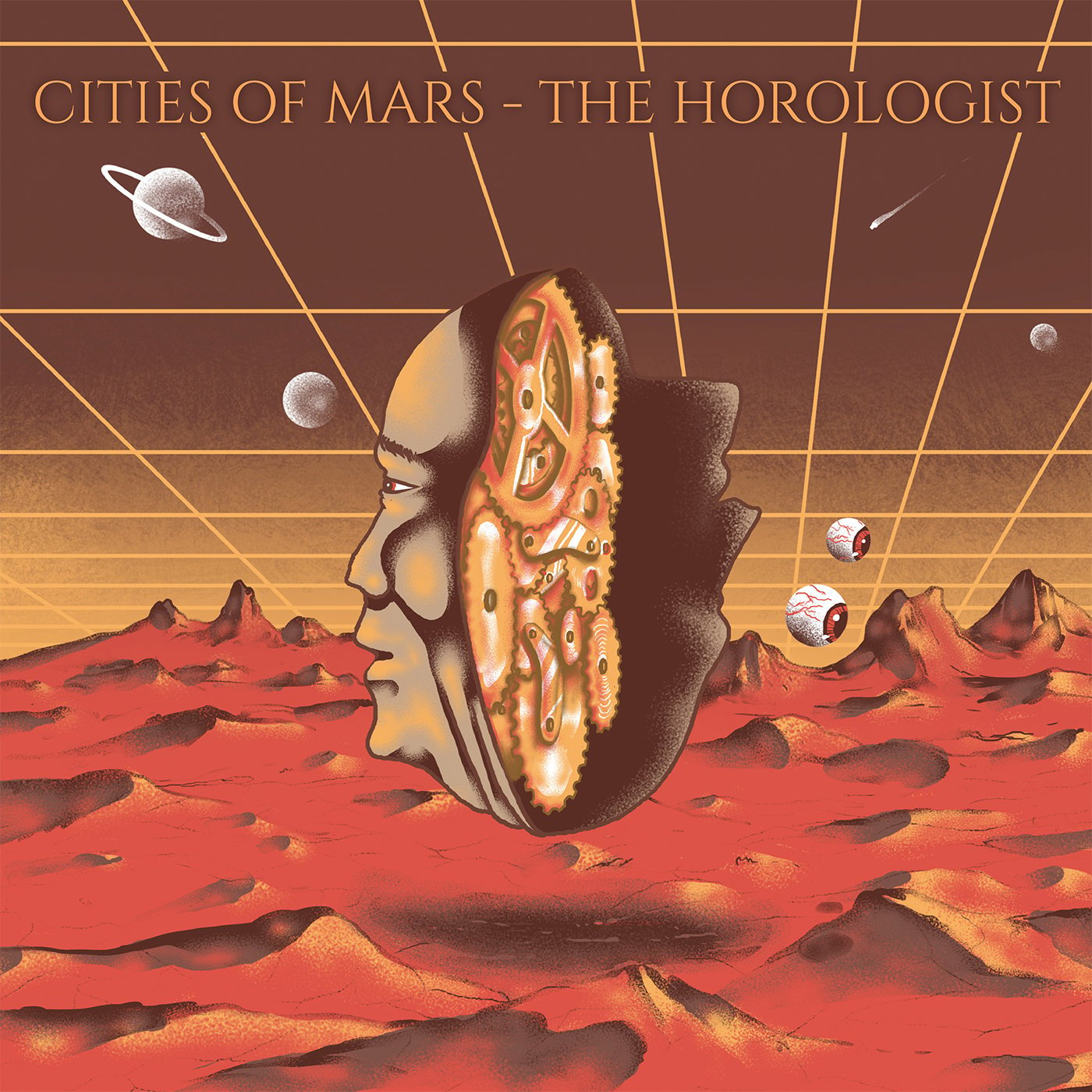 Formed in 2014 in Gothenburg by bassist/singer Danne Palm, guitarist Christoffer Nore?n and drummer Johan Ku?chler, Cities of Mars take a lead from the likes of Mastodon, Kylesa, Sleep and Baroness.
Combining heavy doom riffs, ambient soundscapes and haunting vocals, there's an unmistakable sci-fi narrative that flows through their music, helping them to push boundaries and channel their unique firebrand of heavy progressive rock.
As chief proponents of stoner metal and corporeal ancestors in a revered lineage of Swedish doom rock history, following the success of their inaugural/self-released digital single 'The Third Eye/Cyclopean Ritual' (produced by Esben Willems of Monolord/Berserk Audio) the band wasted no time in setting out to record, Celestial Mistress. Released in 2016 on Suicide Records, this mind-crushing EP – featuring the captivating artwork of Gothenburg-based graphic artist Axel Wide?n – truly signalled the band's arrival on the underground scene.
Cities of Mars have embarked on numerous European tours since their inception and new shows heralded the arrival of new songs, all of which fed into the release of their debut album, Temporal Rifts (2017). With the lyrics on each song adding a chapter to a continuing story, Temporal Rifts follows the ascent of a Soviet cosmonaut on a covert space mission in 1971 and his discovery of an ancient Martian city that awakens a sleeping conspiracy from the dawn of humanity.
This April the saga continues, following three solid years of writing, jamming and touring under their collective belts. Now working alongside Ripple Music label and the management skills of Blackskull Services, Cities of Mars will unleash their awesome new album The Horologist on 5th April 2019.
TRACK LISTING:
1. Necronograph
2. Trenches of Bah-belon
3. Inner Sanctum Outer Space
4. Hydrahead
5. The Last Electric Dream
6. The Floating Museum
7. Work Song
8. Lines In The Dark
CITIES OF MARS:
Danne Palm – Bass, Vocals
Christoffer Norén – Guitar, Vocals
Johan Küchler – Drums, Vocals
**Even though these records are pristine. please be aware we DO NOT issue refunds or replacements for minor cosmetic damage, such as corner dings, bends, split inserts, split covers, and so on. We pack our vinyl very securely and carefully but in some cases this type of wear is simply unavoidable in shipping. We can not be held accountable for how the Post Office handles your items. Please allow 10-14 days (usually) for order processing and shipping**
***GDPR NOTICE - BY PLACING AN ORDER IN THE RIPPLE MUSIC BIGCARTEL STORE, YOU AUTOMATICALLY ACCEPT BEING ADDED TO OUR NEWSLETTER MAILING LIST, WHERE WE REGULARLY WILL SEND OUT EMAILS DIRECTLY RELATED TO THE LABEL'S ACTIVITIES SUCH AS INFO ON PRE-ORDERS AND UPCOMING RELEASES. YOUR EMAIL ADDRESS IS STORED SECURELY BY US AND IS NOT EVER SHARED, SOLD, OR DISTRIBUTED TO THIRD PARTIES, NEITHER WILL IT BE USED FOR OTHER COMMERCIAL USE OR UNRELATED ADVERTISING. WITH EACH NEWSLETTER THERE IS AN OPT-OUT UNSUBSCRIBE OPTION THAT CAN BE USED AT ANY TIME.**