$

10.00
Castle - Deal Thy Fate "Midnight Black" Edition Vinyl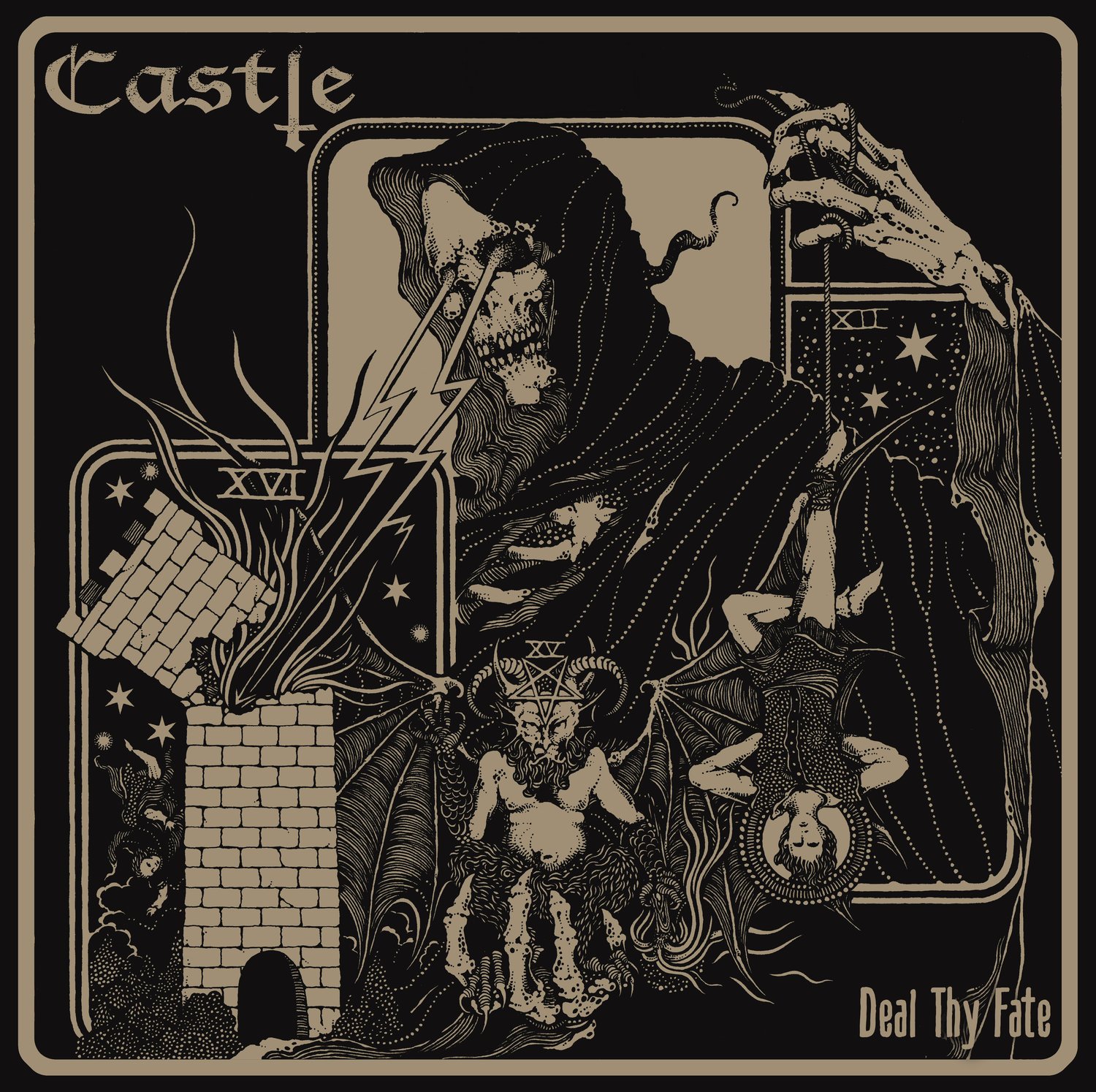 Pure midnight black vinyl
Building on the stripped-down sound of its predecessor, Deal Thy Fate continues seeing CASTLE push the envelope of classic heavy metal, crafting epic and memorable songs that hearken back to fuzzier times while keeping the pedal down on their own hard-edged, modern sound. Guitarist Mat Davis' penchant for riffs that worm their way into your brain and singer/bassist Liz Blackwell's haunted melodies soar out of the depths across the albums 36 fist-banging minutes.
View the new lyric video for the albums first single 'Wait For Dark'
Written over the last year in the band's current Mojave Desert location of Joshua Tree, CA, the album's 9 tracks are woven with tales of folklore, dark Americana, serial killers and cult leaders, while the album's striking cover art, inked by Patrick Zoller, reflects the title track's no compromise, choose-your-own destiny rally cry.
Track listing for Deal Thy Fate
1. Can't Escape The Evil
2. Skull In The Woods
3. Prelude
4. Hexenring
5. Wait For Dark
6. Deal Thy Fate
7. Haunted
8. Red Phantom
9. Firewind
Commenting on the writing and recording of the new album, which was rounded out on drums by previous touring member Chase Manhattan, Liz Blackwell adds, "We were able to spend a couple months in a jam room honing these songs and for the first time, record the entire album live in the studio – it definitely shows in its energy and intensity and sounds more like live CASTLE than anything else we've ever done."
**Even though these records are pristine. please be aware we DO NOT issue refunds or replacements for minor cosmetic damage, such as corner dings, bends, split inserts, split covers, and so on. We pack our vinyl very securely and carefully but in some cases this type of wear is simply unavoidable in shipping. We can not be held accountable for how the Post Office handles your items. Please allow 10-14 days (usually) for order processing and shipping**
***GDPR NOTICE - BY PLACING AN ORDER IN THE RIPPLE MUSIC BIGCARTEL STORE, YOU AUTOMATICALLY ACCEPT BEING ADDED TO OUR NEWSLETTER MAILING LIST, WHERE WE REGULARLY WILL SEND OUT EMAILS DIRECTLY RELATED TO THE LABEL'S ACTIVITIES SUCH AS INFO ON PRE-ORDERS AND UPCOMING RELEASES. YOUR EMAIL ADDRESS IS STORED SECURELY BY US AND IS NOT EVER SHARED, SOLD, OR DISTRIBUTED TO THIRD PARTIES, NEITHER WILL IT BE USED FOR OTHER COMMERCIAL USE OR UNRELATED ADVERTISING. WITH EACH NEWSLETTER THERE IS AN OPT-OUT UNSUBSCRIBE OPTION THAT CAN BE USED AT ANY TIME.**