$

2.00
Ape Machine - Darker Seas CD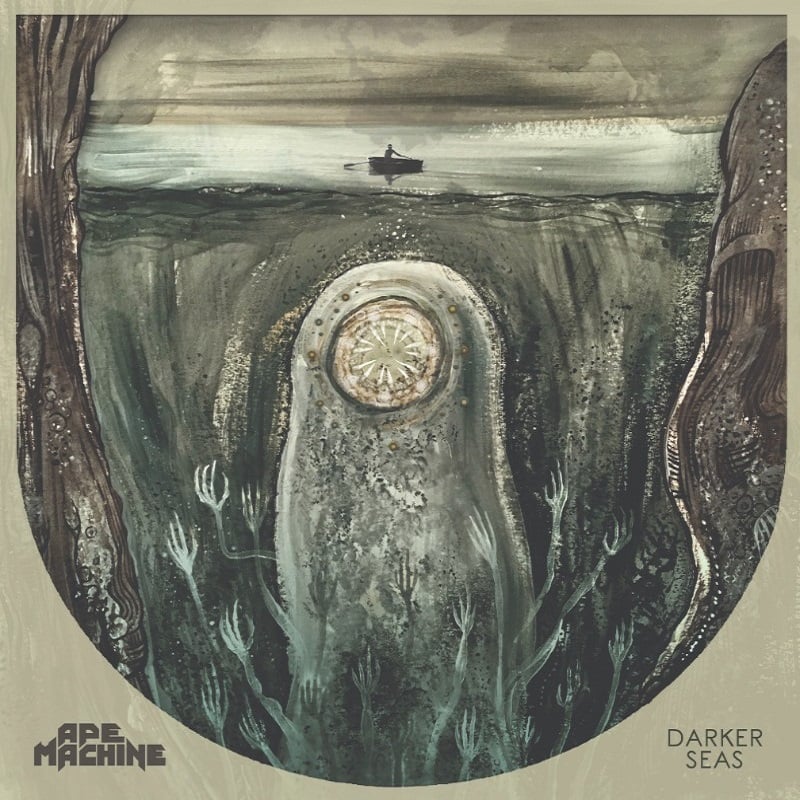 Portland, OR power rock band, Ape Machine, will release its new LP, Darker Seas, on September 7 via Ripple Music. The group's fifth and latest album was recorded with punk legend Steve Hanford, producer and former Poison Idea drummer, who has since joined Ape Machine on drums. Darker Seas is described by the band as "heavier and more progressive than previous records but also more structured and cinematic."
Along with fellow Portland, OR-based heavyweights Red Fang and Danava, the high-powered quartet Ape Machine has been making its modern take on vintage hard rock for the better part of the past decade. Formed by singer Caleb Heinze and guitarist Ian Watts, the group self-released their first album, entitled This House Has Been Condemned, in 2010. The name APE MACHINE is a nod to the days of reel-to-reel magnetic tape audio recording; a fitting moniker as the band plays through vintage tube amplifiers and lays down its songs using exclusively throwback quality studio equipment.
The making of the new album, Darker Seas, saw the band experience death and rebirth in more ways than one. During the making of the record, Caleb and Ian lost a mother and father respectively, and Brian experienced the birth of his first child, a son. The band went nearly bankrupt from relentless touring and untimely vehicle failures, but ultimately developed an unshakable determination and resolve to deliver the message of the music. Musically, Darker Seas reflects the personal struggles of the band and its members but also the patience developed by living through it all.
"Sonically, 'Darker Seas' takes on new territory for the band with use of vocal harmonies, melodic guitar harmonies and even some Cello on "Nocturne in D Flat (The Jester)," says Watts. "The songs paint a picture of trial, hardship, pain and optimism all at the same time."
Track listing:
1. Damned, Their Bones
2. Into The Shredder
3. Piper's Rats
4. Watch What You Say
5. The Fall
6. Nocturne in D Flat (The Jester)
7. The Contract
8. All Hands Gathered To The Mast, We're Going Down
9. Bend Your Knee
10. Push It Away
11. A Many Things
Ape Machine features Caleb Heinze (vocals), Ian Watts (guitar), Brian True (bass) and Steve Hanford (drums).
**Even though these records are pristine. please be aware we DO NOT issue refunds or replacements for minor cosmetic damage, such as corner dings, bends, split inserts, split covers, and so on. We pack our vinyl very securely and carefully but in some cases this type of wear is simply unavoidable in shipping. We can not be held accountable for how the Post Office handles your items. Please allow 10-14 days (usually) for order processing and shipping**
***GDPR NOTICE - BY PLACING AN ORDER IN THE RIPPLE MUSIC BIGCARTEL STORE, YOU AUTOMATICALLY ACCEPT BEING ADDED TO OUR NEWSLETTER MAILING LIST, WHERE WE REGULARLY WILL SEND OUT EMAILS DIRECTLY RELATED TO THE LABEL'S ACTIVITIES SUCH AS INFO ON PRE-ORDERS AND UPCOMING RELEASES. YOUR EMAIL ADDRESS IS STORED SECURELY BY US AND IS NOT EVER SHARED, SOLD, OR DISTRIBUTED TO THIRD PARTIES, NEITHER WILL IT BE USED FOR OTHER COMMERCIAL USE OR UNRELATED ADVERTISING. WITH EACH NEWSLETTER THERE IS AN OPT-OUT UNSUBSCRIBE OPTION THAT CAN BE USED AT ANY TIME.**