$

5.00
Craneium - The Narrow Line CD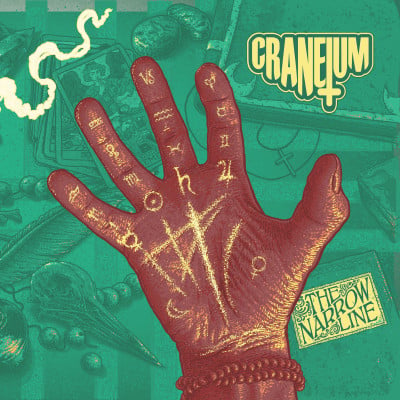 "Finnish psychedelic doom rock. Stop right there. Where do I sign up? As we carefully tread down The Narrow Line, Craneium's grim yet stoner-friendly rock 'n roll fantasy, it is apparent that Finland has produced yet another vastly interesting group of young musicians. Set out on their first record, Craneium provide songs and images that will in fact become trapped within your cranium, and depending on where you stand on the mental scale, that can be a good thing… or great thing. It's only bad if you don't like rock 'n roll. Which if thats the case then I'm afraid we can't help you there.
All in all, I most definitely highly recommend this album to anyone that is a fan of classic rock n roll and/or heavy metal (which should be all of us)." -- Death Comes Lifting
"Well this is cool, a full commend from Head-Banger Reviews (Thank You!!)
"But it's every now and then I get a real exceptional act that manages to exceed my expectations and give me an experience that I've been needing, and tonight Craneium brilliantly delivered just that for me with their upcoming album."
"Another stoner rock band is a dime a dozen nowadays with a new one seemingly coming out of nowhere even ten minutes, but it's because of acts like Craneium that I simply can't help but come back for more! "The Narrow Line" is an absolutely splendid trip through the haze that Craneium creates with each riff and each ounce of psychedelia that's simply dripping out of every track from this highly exceptional record that gets full commend from me." -- Head Banger Reviews
**Even though these records are pristine. please be aware we DO NOT issue refunds or replacements for minor cosmetic damage, such as corner dings, bends, split inserts, split covers, and so on. We pack our vinyl very securely and carefully but in some cases this type of wear is simply unavoidable in shipping. We can not be held accountable for how the Post Office handles your items. Please allow 10-14 days (usually) for order processing and shipping**
***GDPR NOTICE - BY PLACING AN ORDER IN THE RIPPLE MUSIC BIGCARTEL STORE, YOU AUTOMATICALLY ACCEPT BEING ADDED TO OUR NEWSLETTER MAILING LIST, WHERE WE REGULARLY WILL SEND OUT EMAILS DIRECTLY RELATED TO THE LABEL'S ACTIVITIES SUCH AS INFO ON PRE-ORDERS AND UPCOMING RELEASES. YOUR EMAIL ADDRESS IS STORED SECURELY BY US AND IS NOT EVER SHARED, SOLD, OR DISTRIBUTED TO THIRD PARTIES, NEITHER WILL IT BE USED FOR OTHER COMMERCIAL USE OR UNRELATED ADVERTISING. WITH EACH NEWSLETTER THERE IS AN OPT-OUT UNSUBSCRIBE OPTION THAT CAN BE USED AT ANY TIME.**